 Warehouse management system - MarPOS​ What is an inventory management system or warehouse management software?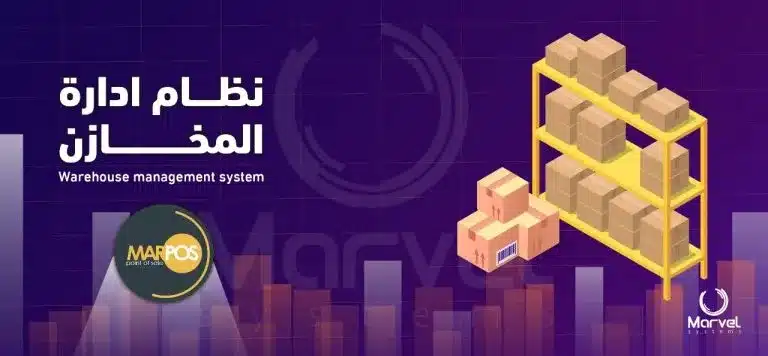 Warehouse Management System is a specialized system is responsible for all effective inventory management processes to ensure that the stored quantities are properly maintained and product quality is maintained, as the correct inventory management process provided by the competent systems contributes in some way to customer satisfaction.
Precisely monitor and track the movement of products in your warehouse with Marvel's inventory management software via an easy-to-use interface
Add an unlimited number of products, services or bundled products
Track your products by multiple options, add units, ratings, and list them to your business needs
Keep an eye on stock quantities with alert notifications when the quantity of the product has reached a certain limit or is close to being out of stock
Manage all your warehouses from one place, issue different warehouse bills and convert them into sales or purchase invoices in simple steps
Define the powers of the personnel responsible for managing warehouses
View detailed reports on stock and warehouse movement and performance of the responsible business team to effectively achieve your business goals.
The importance of inventory management
Because it is one of the important things for the success of any business project, it is possible that your company's stores contain many different products that you need a program to manage and know what is left of them and what quantity we need next time. You should take care of having an inventory follow-up program and this is done through the warehouse management system, and you can design the warehouse management system with high quality through one of the best inventory management software companies. Contact Marvel as soon as possible.
There are many positive benefits that accrue to all parties in the business process environment when using inventory management systems, whether at the level of the organization and its departments, or at the level of customers interested in the items and products of this organization.
The importance of having inventory management systems can be realized through what it provides to the company from:
Detailed information on the quantities and nature of items and the movements made on them
Define an infinite number of stores
All documents that serve the exchange, import and transfer process
Rules for item checkout and inventory document creation
The most important data that defines the specifications and settings of the item:
Can define any number of units of the class
Define any number of codes
Assign a code to each supplier or customer
Define a comprehensive commercial policy for each item, such as the possibility of buying, selling, returning or manufacturing it
Storage policy as minimum item quantity, maximum quantity and order limit
Possibility to specify item versions, sizes, colors, and other great information
Benefits of inventory management systems from Marvel
Significant cost reduction as you can manage your warehouse management system yourself if you are a retailer or small business
Easily increase your trade and also create a suitable marketing plan for the products you have in stock, which is also useful for after-sales service.
Intelligent collection of information, allowing you to know what orders are coming to your company and whether you need to increase products in stock or not.
Quantitative inventory efficiency by feeding real-time inventory quantities as soon as sales are completed or merchandise is received.
Reduce errors resulting from traditional methods where inventory and inventory management systems are given an opportunity to review errors that can occur during the receipt, storage and transportation of goods.
Increasing customer satisfaction, where customer satisfaction is related to the availability of the goods or products they require so that customers find their need at any time.
Improving the review and audit process
Evaluation of the organization's business, where inventory management systems play an active role in financial analysis and evaluation of the existing business activity in organizations by studying some financial rates and ratios related to inventory by the company's management.
How to choose the right warehouse management system for you?
There is no doubt that there are many types of warehouse management systems, and the choice is often made according to the size of the institution or company. for example:
Small organizations may use spreadsheets or some printed document, which means that they use traditional methods that affect the nature of their work.
Medium companies or large companies use inventory management software to make their business run smoother and also more successful.
Many companies build or purchase an inventory management system designed specifically for them from the beginning. You can design an inventory management program with high quality and efficiency through Marvel Systems. Contact Marvel now and our team of experts will help you determine the best solution for you to choose the best inventory management software that suits the nature of your company.