 Human Resource Management System​ What is the importance of the human resource system and what is meant by it?
Human Resource Management System – HRMS, which is also known as Human Resource Information System – HRIS, is a set of programs that organizations use to manage the company's human resource functions, which include:
Employee Data Management Software.
Payroll Software
Programs for employee recruitment procedures.
Benefits and Training Programs.
Talent Management Software.
Employee Attendance Programs.
Today's HRMS programs help you manage your human capital or workforce, which is the most valuable and recognized asset within your company.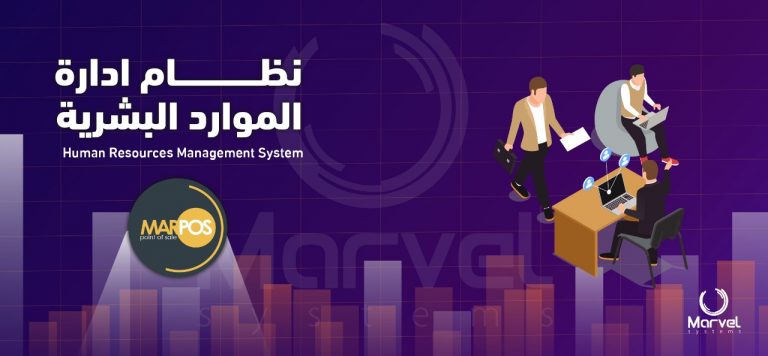 Why should you use an HRMS?
The importance of HR lies in the organization's commitment to operate efficiently and effectively and your HR department needs to choose the best HRMS suitable for managing the lifecycle of your employees. Contact Marvel Systems now to learn about the best human resource management systems for talent management and workforce improvement. It is characterized by ease of use and data analysis.
What is the most important information that the human resource management system provides for your company?
The human resource management system provides your company with valuable information that will help you run the work efficiently, the most important of which are:
Management Employment Information.
Vacancies and their details.
Information to help select the right candidate for the job.
Career Planning Information
The Human Resources Information System (HRIS) provides:
Career planning information about employees.
Define promotions, training, and development programs if the employee has worked for many years within your company.
Information regarding training needs.
Provides a schedule of training programs.
Employee performance is evaluated on a quarterly, semi-annual or annual basis depending on the needs of the company.
The Human Resource Management System (HRMS) maintains information about:
Employee wages.
Incentives and Tax Information.
Insurance Benefits.
And much more information that you can use while you want to make a decision.
The most important factors that help in making the decision to use the human resource management system for your company:
Human Resource Management Software Human Capital Management solutions combine simplicity and intelligence to make work more specialized.
Adaptable and scalable design where the software provides an adaptable and flexible solution to meet business practices, regulations and environments.
And constantly changing policies. Through the human resource management program, you can set many policies such as:
Absence.
extra time.
Being late for work.
early dismissal.
End of Service.
Work on public holidays.
Smart Recruitment By helping industry workers make smarter hiring By improving talent management, companies can provide complete workforce insights, increase efficiency, manage the entire employee lifecycle, and integrate with key business areas, including finance and sales — and gain Speed, security and innovation.
Greater business value with our HR software through great user engagement, simplified processes, increased productivity, and lower costs.
Data security and privacy controls Your business benefits like multiple levels of security, data encryption to maintain information security, and state-of-the-art data centers that are provided by an intuitive user interface.
Customer Success Our expert team of top software designers help you with every step of your journey to using HR management software to ensure the success of your project and customer service to help you maximize the value of your investment.
At its core, Marvel Systems HRMS provides you with the perfect capabilities to meet all your business needs and you can order create and build the future HR platform, starting today using key cutting edge technologies. Contact now and request a quote for Best Human Resource Management Software.