 MarPOS Account Management Software MarPOS account management program is one of the best and easiest account management systems in the Kingdom of Saudi Arabia Through which the full control and management of customer and business accounts is carried out, so if you want the best account  management system contact marvel systems.
How the MarPos Account Management Program works:
The system depends on the generation and creation of accounting entries and their transfer to the designated places.
It is a coherent, integrated and intelligent program.
And it helps more than wonderfully in closing or permanently closing the annual accounts.
It is also programmed to suit all business sectors (service – commercial …..etc).
It is based on the modern value-added tax system in the Kingdom of Saudi Arabia.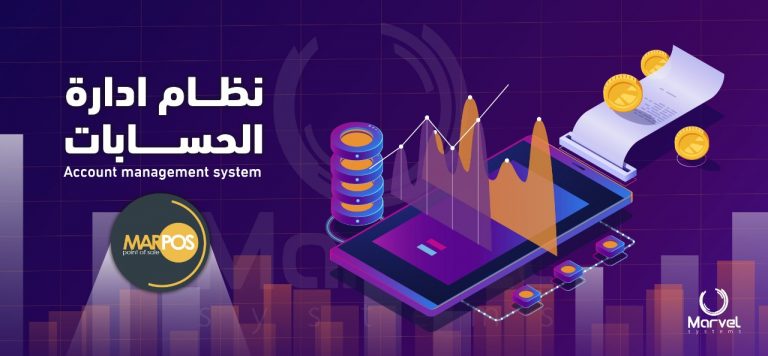 The MarPos account management program also contains:
Invoice management system, from its creation, printing and mailing, and linking all financial transactions with each other

Customer management system, creating a personal file for each customer, their accounts, data and financial transactions
MarPos Account Management Features:-​
Adjustment of clients' accounts completely (full management).
E-mail alerts about due bills, payment dates and collection automatically.
Professional management, viewing and printing of invoices.
Use more than one language in the program
Create and configure a backup copy of the program periodically to ensure data security.
Easy identification within the program (incoming and outgoing – expenses and revenues).
The possibility of different classifications of accounts (cash, check, etc.).
Complete and integrated cash and financial flow reports.
Possibility to add unlimited number of users.
The system is the heart of account management processes in an easy, smart, simplified and professional manner at the same time.