 MarPOS Sales Management System Point of Sale Management System (POS) for small business
Running your own business is a process that needs a platform on which you can handle transactions.
A point of sale system, or Points Of Sales System – POS, is basically an environment in which you can handle a lot of financial and administrative work to run your business.
Having an efficient payment processing system goes a long way in making sure that you can continue to be successful as a business manager.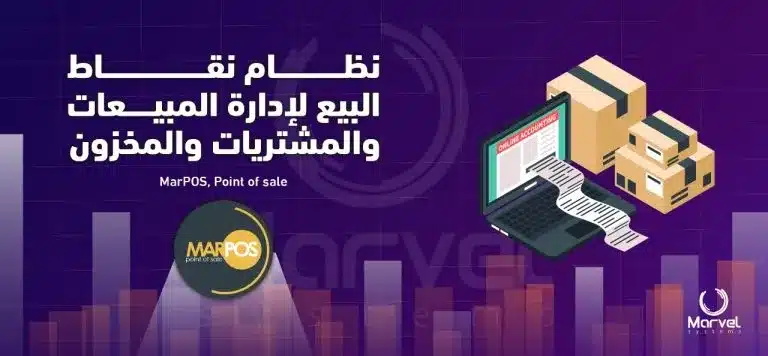 How does the Point Of Sale System work?
A point of sale system is a tool that allows your business to accept payments from consumers and track sales and is a fully digital tool, which means that customers can check your business almost anywhere, using a POS app and an internet-connected POS device or terminal.
what are the basics of working a Point Of Sale System?
The customer decides to purchase your service or product, checks the item's price with a price code scanner, and then processes your customer to the point of "checkout."
PoS will calculate the price of the product or service with any potential tax, and then update the information in the inventory management system. This enables you to see how many products are left for sale.
The customer gives you their credit or debit card (sometimes loyalty points and gift cards are also necessary). Depending on the nature of the payment, the customer's bank must then organize the transaction.
Sale is officially completed. The customer receives a receipt either printed or digital, via email or SMS.
Inventory management: Inventory management software helps you monitor which products you have to ship and sell .
Point of Sale Reports: These reports provide insight into how much you earn and sell. Clear reports help you make better decisions for your business.
Employee management tools: Team management tools help you track when your employees are available and how well they are performing. You can even use the software to support employees with check-in or check-out.
Tools CRM: Your Sales System CRM tool will help you keep track of information about What and when your customers buy.
Received: Designed to make it easier to process refunds, Receipts give you a path associated with the item purchased. The receipts you provide will also help your business look professional.
The Importance of Point Of Sale System
A point of sale system, or point of sale software, ensures that your customer can pay for the services and products they get from your store. Every time a customer buys something from your store, they are a party to the POS transaction.
POS is an important part of your business, and there are many benefits to owning a POS for your business, including:
Better Efficiency: When you have best payment processing software, and you have best inventory management software, then Things are going more smoothly.
Simplicity: The Point of Sale system makes it easy to keep track of all your financial information in one place. You can even handle payments from an iOS or android smartphone in some cases.
Offline Selling: POS solutions can come with POS devices such as a credit card reader This means that you can make sales whether you are online or offline.
Inventory Management: Unlike accounting software and cash registers, a POS system comes with tools that show you exactly how much inventory you have at any given time. This means that you will not lose sales opportunities.
Personnel Management: Many POS systems ensure that you can keep track of things like employee schedules and the number of sales your team members have made. This helps in achieving better results for your business.
Apart from all the exciting features in Point of Sale systems it is worth noting that many software packages also come with several add-ons that you can use, for example, you can use access tools for detailed receipts that enable you to design customer loyalty programs that allow You offer benefits and points to your customers when they purchase additional products from you.
Best Point Of Sale System
Are you looking for a portable POS system that you can take with you? Or do your business needs center around traditional point-of-sale systems, such as the ability to monitor your inventory and track sales?
Here comes the role of Marvel Systems, the best company that provides point-of-sale systems. Contact our team of professional experts now and we will help you determine the factors that are most important to you
Point Of Sales System Features
Comprehensive Inventory Management
Sales tracking and reporting
Payment Processor Tools and Order Management Solutions
Automate tasks such as inventory and purchase reports, or automatically send receipts to a customer's email address.
Bonus Programs
Ease of use
CRM
Personnel Management
Good compatibility with the latest technology
If you are looking for the best Point Of Sales System – POS solutions and the previous information was useful and answers your question, "You are in the right place, and you only need to take the right action by contacting Marvel Systems now